When it comes to aluminium and zinc die castings MRT's is the definition of a full-service solution.
The casting journey is one that begins with an initial design concept and concludes with scaled distribution.
Along the way however are a host of key checkpoints fundamental to the accuracy and reliability of your final component.
In this article we'll touch upon them all and explain why it serves to navigate a route well-trodden with one, single subcontractor.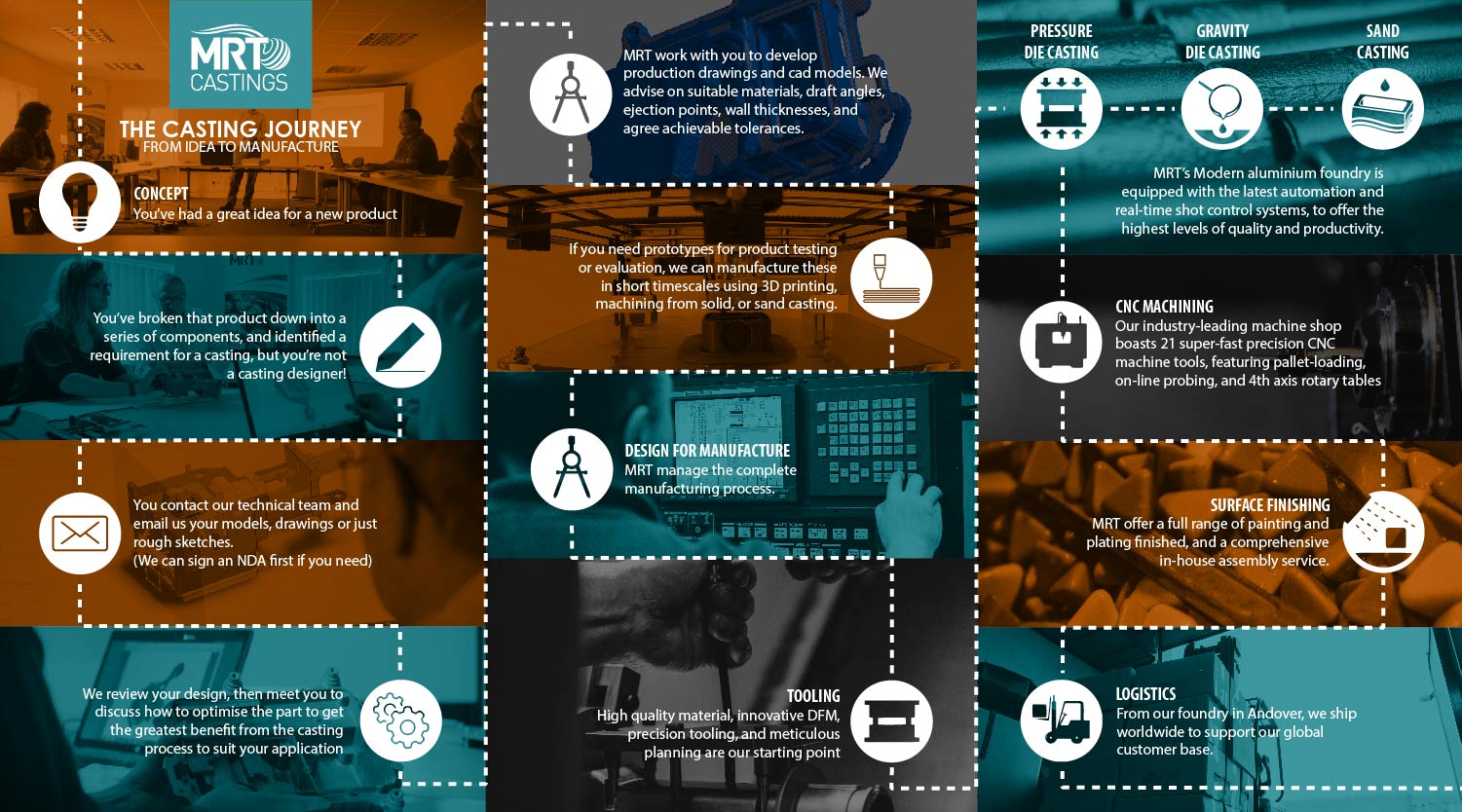 Concept
As mentioned, all critical parts stem from an idea.
Identifying the various components that will make up said part though is one thing, designing them is quite another. This is where MRT come in.
Our technical team welcome any drawings, sketches or models that lay out your vision, however roughly.
These design concepts are typically shared electronically so both sides can gauge the scope of a potential project. It's not unusual for OEMs to seek out the opinion of various manufacturers at this point, necessitating Non-Disclosure Agreements. This is never a problem.
Following virtual discussions, a face-to-face meeting is usually scheduled to explore the concept in more detail.
It's here where talk turns to scalability, repeatability and moreover what casting process would be most appropriate.
Ideas are bandied around, and recommendations given on possible materials, draft angles, tolerances and more.
This can quickly lead to MRT producing fully blown production drawings and with them detailed CAD models. Prototypes can even stem from 3D printing or machining from sand or solid casting, depending on the intended application.
And just like that, you've exited the concept stage.
Design and Manufacture
As you hurtle towards the design and manufacture of your component, you'll come across some key signposts.
Tooling
The first of these is tooling and more specifically the engineering of the tools required to manufacture upcoming parts.
This differs according to the design in question but may encompass dies, fixtures, gauges, jigs, moulds and/or patterns fundamental to that all-important next step.
No quick pit stop, tooling involves meticulous planning. The quality, accuracy, speed and repeatability of your final cast depends on it.
This is where MRT come into our own, boasting high quality materials and precision tooling capabilities.
Casting
After tooling all roads lead to casting itself, which can take various forms. MRT work out of a modern foundry specialising in three kinds in particular…
Pressure Die Casting
High pressure die casting allows for the quickest turnaround times.
In short, it sees molten metal injected into a hardened steel mould, wherein it solidifies under pressure before being ejected.
MRT make for ideal partners in this approach, given our dedicated machines contain locking forces of between 200 and 530 tonnes. They also afford automatic ladling, extraction and cooling, along with die-spray and real-time shot control.
Synonymous with large scale production, we can accommodate short runs this same way.
Crucially, lower cost and faster production in no way impinge on precision.
Gravity Die Casting
Gravity die casting differs from the above in that it uses iron or steel moulds, enabling aluminium and zinc castings to be produced more accurately and with a superior surface finish than sand casting.
MRT oversee gravity die casting using a range of microprocessor machines. These mechanise movements, allowing for tilt pouring and greater all-round flexibility.
Sand Casting
Sand casting is perhaps the simplest ways to produce non-ferrous castings and centres on pouring molten aluminium, copper or zinc into a sand mould.
Low-cost tooling, coupled with a low gas porosity make it an attractive proposition, particularly as large cast sizes are also available.
MRT will naturally advise on the best kind of casting for your project. You can take comfort in the knowledge we can call upon cutting edge automation and real-time shot control system, facilitating unrivalled levels of productivity.
CNC Machining
Machining is the next milestone en route to bringing a high tolerance component to market.
Casting may well deliver your preferred material, but this will not yet resemble the part you had in mind. This only begins to take shape (literally) with CNC machining, which will remove unwanted material, add features such as drilled an tapped holes, and refine tightly tolerance faces.
Again, this is something MRT oversee using industry leading technology, helping to minimise production costs, whilst simultaneously enhancing product quality.
Central to this are our 26 super-fast production CNC machine tools, encompassing pallet-loading, on-line proving and four axis rotary tables.
Surface Finishing
The chequered flag is almost in sight but it's a different kind of finish that precedes it.
Surface finishing alters the look and feel of your cast component, smoothing out any rough edges and creating the desired appearance.
MRT have a full suite of painting and plating finishes to choose from, ranging from anodising to powder coating and everything in between.
This is supplemented with in-house assembly where required.
Logistics
Unlike a great many manufacturers MRT's service offering extends beyond mere production. Indeed, we're experienced in assisting clients to bring their product to market, shipping worldwide and in great quantities from our foundry in Andover.
Industrialisation has long proven a headache for new OEMs in particular but we can ease that pain and allow for a seamless rollout.
So, there you have it, the key points along the casting journey.
How you plot your route is down to you but anyone looking to cut lead times and costs, without negatively impacting output, should really seek to collaborate with a sole subcontractor.
We know just the travel companion...
Learn more about our services or contact us today to discuss your casting needs with one of our experts.